* Free home delivery across the Illawarra. Free delivery to your door, including Nursing Homes, Retirement Villages, and HomeCare providers. To organise, call the pharmacy or use the MyPharmacyLink app.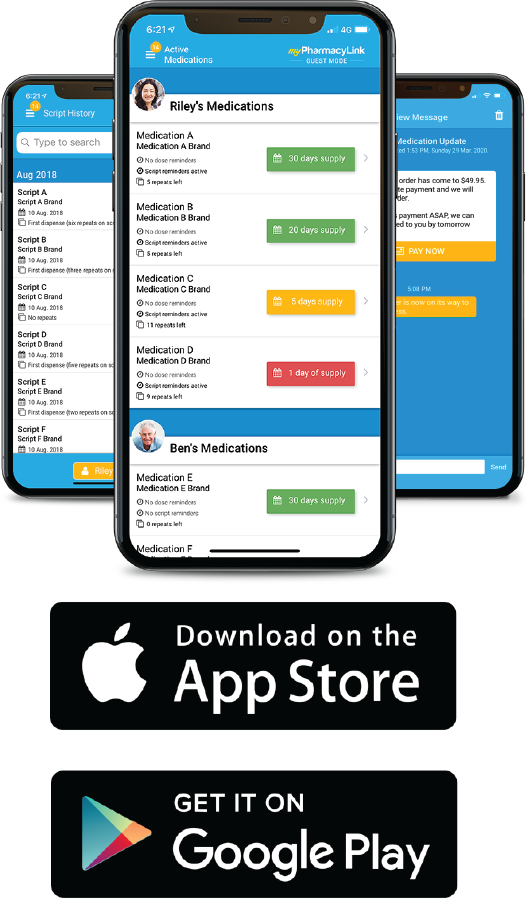 Manage your scripts with Wal's Pharmacy on your mobile phone!
Do you want a convenient monthly reminder before your medicines have run out? Or perhaps you'd like to find out how many repeats you have left?
With the MyPharmacyLink app and Wal's Pharmacy - convenient medicines management is a breeze! Watch the video below to see how it works.
Talk to your pharmacist at Wal's Pharmacy today about getting it set up for you. You can download the app now by clicking the Google Play Store (Android) or Apple App Store buttons.
---
How it helps you stay healthy
High blood pressure can lead to serious problems such as a heart attack, stroke, heart failure or kidney disease. A good way to monitor your blood pressure is through in-pharmacy blood-pressure monitoring and recording.
Wellbeing is strongly linked to happiness and life satisfaction., Wellbeing not just the absence of disease or illness but good mental health, life satisfaction, a sense of meaning or purpose, and ability to manage stress.
General Health Advice
Pharmacists are important in promoting the proper use of medicines and maintaining the optimal state of health.
Weight Loss
Obesity can increase the risk of developing many potentially serious health conditions and its a chronic problem, implicated in dozens of diseases. Pharmacists have the expertise to be able to offer a complete package of evidence-based options, from simple diet and nutritional advice.
Lorem Ipsum has been standard daand scrambled. Rimply dummy text of the printing and typesetting industry
Health Partners